Our People
Our people are very important to us, as is making certain we provide you with the best possible professional financial advice. Below is a short biography for each of our colleagues together with their contact telephone number. For further contact details please see our "Contact Us" page.
---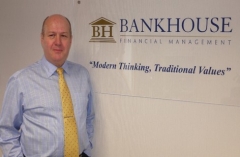 Colin Perryman, Director
Tel.
01249 467000
Email.
infobhfm.co.uk
People fail to plan, not plan to fail.
This is as true today as it was when I started in Financial Services, back in 1987. I passionately believe in Financial Planning and with all the technology available to people today, this can create more questions than answers. Face to face advice is as important today, as it has always been, in an ever changing financial world.

When Will and I started Bankhouse back in January 2004, it was based on providing a face to face service to our clients. Our motto has always been "Modern thinking and traditional values".

The starting point to any good client relationship is the ability to listen to their needs and aspirations and our ability to highlight aspects that they may not have thought about. Bankhouse will then create a plan that helps towards satisfying those needs and achieving our client's goals.

This philosophy has helped us create long standing relationships and trust with our clients and in many cases we are now helping our client's children!

I specialise in:
• Preserving wealth
• Protecting family wealth and loved ones
• Inheritance Tax (IHT) planning
• Investment management
• Retirement planning advice
• Long Term Care planning
My clients include:
• Small business owners and entrepreneurs
• Individuals at or near retirement
• High-net worth individuals
• Partners of Accountancy and Solicitor firms
• Trustees

I am married to Lizzie and we have three grown up daughters, Sam, Charlotte and Hollie. We have two lively Dalmatians called Rio and Raffa (who are very much a part of BHFM!) and we have two cats that we rescued, Mr Bumble and Mr Tibbs.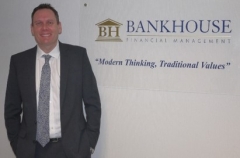 Will Fuller, Director
Tel.
01249 467000
Email.
infobhfm.co.uk
Thank you for taking the time to read my profile. My role is broadly to protect my clients, from the financial implications of 'living too long, dying too soon or becoming sick in between'. I work in partnership with my clients to build up a personal one on one, face to face, working relationship which then reviews and plans out all areas of their financial planning.

I really enjoy what I do, and particularly like being able to help clients overcome financial problems, improve their situation and plan for a financially secure future for them and their families. I passionately believe in traditional face to face financial planning but also using modern technology to help achieve those goals and needs.

I advise on all areas of Financial Planning for individuals, families or businesses and work with a number of professional connections including solicitors and accountants.

Areas of business that I specialise in:
• Individual/Family
• Pensions Advice - At Retirement and drawing benefits
• Pensions Advice - Planning for the future Pre-retirement
• Inheritance Tax Planning
• Investment Management
• Individual Family Protection - Life Cover, Income Protection and Critical Illness
• Corporate/Employer
• Business Protection - Key man, Loan and Shareholder Protection
• Corporate Pension work with employers including Auto Enrolment and a range of Employee Benefits

Colin & I set up Bankhouse in 2004, with me having previously had a background working as a Financial Planner in my father's firm and previous to that also having worked for an insurance company.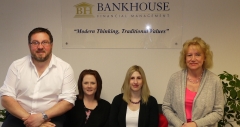 The Team, Nyall, Kelly, Kirsty, Lizzie, Emily & Freya
We have a very experienced and customer focused administration team based in the office who provide the necessary back up to the Directors.



Investment Analyst - Nyall Donald
Nyall has more than 20 years' experience in the industry with a background in many areas- pensions, customer relations, complaint management and wrap platforms. Nyall is currently responsible for the research and planning of Bankhouse's Investment Committee and all things technology related. He also continues to do client work, mostly related to investment planning and reviews.

PA to Colin – Kelly Perry
Kelly has worked in Financial Services since the age of 16, initially for Allied Dunbar (Zurich) where she worked within their Customer Service Teams and then moved into compliance. She left Zurich and starting working for Bankhouse Financial Management in 2005 and she is Colin Perryman's Personal Assistant.    She has a good working knowledge of all financial services products and she assists Colin in his role as Compliance Director. 

PA to Will - Emily Lloyd
Emily has worked in Financial Services for 6 years now. Previously she worked at Precision Financial Consulting for just over three years where she started as an administrator and worked up to become a paraplanner, working for various advisers. Emily moved to Bankhouse in October 2017 and now provides Will with full support.

Client Services Team Leader – Kirsty Newman
Kirsty has spent nearly 20 years working for financial advisers in the M4 corridor, starting in 2003 for a small adviser firm in Wantage, she moved to Bankhouse in early 2010. Initially she was employed as an administrator but quickly progressed to become Team Leader.

Client Services Administrator - Freya Payne
Freya recently completed her degree at Bath Spa University and joined the company in 2019 to assist Kirsty with the day to day admin.

Office Manager / Commissions – Lizzie Perryman
Lizzie started work in 1975 with Allied Dunbar as trainee Administrator and worked up to Senior Administrator. An opportunity arose in the mid 90's and she moved to a Brokerage in Chippenham and worked with Colin as his Personal Assistant/Administrator, When Colin started Bankhouse Financial Management along with his colleague some 12 years ago, her role changed more to that of an Office Manager and accounts side of the business and that continues to be her role today.